One of the goals of the Tucson Desert Song Festival Board of Directors is to offer Tucsonans of all ages the opportunity to hear professional vocal music, particularly art song. The educational events listed below are open to the public free of charge.
The education component of the festival focuses on three areas:
Master classes, recitals and lectures
Adult outreach programs
The University of Arizona School of Music has graciously agreed to host several master classes, recitals and lectures during the 2015 festival. University vocal students are given the opportunity to perform for world-class guest artists and the public is cordially invited to attend these master classes. In addition, several School of Music faculty members will be presenting recitals and lectures. More information can be found under Events.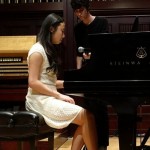 The Songwriting Competition, for Pima County students K-12, is designed to encourage students to combine skills of the written word with those of music to compose original songs. The compositions submitted will be judged by a panel of experienced educators and finalists will be chosen in grade groups K-5, 6-8 and 9-12. Finalists will be invited to perform their songs (or have other musicians do so) in a special Showcase Recital in Holsclaw Hall on Saturday, January 30. Cash awards and certificates will be given at that time. Apply here for our next competition, and listen to past entries here.
Adult outreach programs take place in and around Tucson. They are a series of preview concerts intended to educate adults in the history and tradition of art song, increase the enjoyment of this unique music form and enhance community awareness and support of the Tucson Desert Song Festival. The venues include adult living communities, country clubs, churches and private homes. The artists for these concerts are talented graduate students from the UA School of Music.
To volunteer, donate or obtain further information, call 1-866-546-3305.