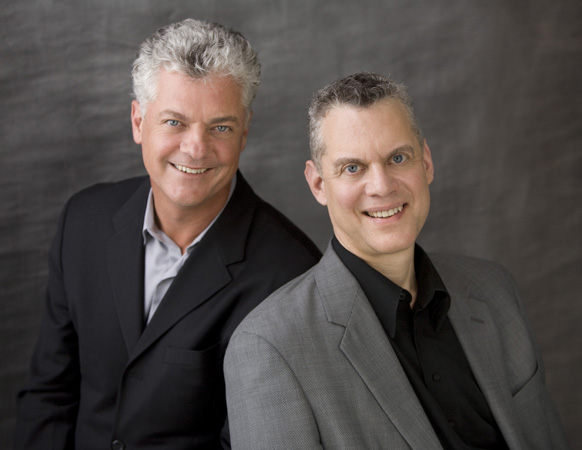 In 1988, Manhattan-based pianists Michael Barrett and Steven Blier presented the very first concert season of New York Festival of Song, a series of intimate, original ensemble song programs consisting almost exclusively of rarely-heard songs of all kinds, "from Debussy to doo-wop, lieder to latin jazz, Josquin to just-written." Each show was unified by a theme, constructed with a dramatic arc, and cast with superb vocal artists whose committed performances brought the songs to vivid life, with the directors as accompanists and animated narrators. This same dynamic model for seeking out unusual songs and sharing them audiences continues to shape NYFOS's concerts today, in ways that continue to delight and surprise listeners. NYFOS's motto since that first season has been "No song is safe from us!" Newsday has called NYFOS "the most reliably excellent musical organization in New York."
STEVEN BLIER is the Artistic Director of the New York Festival of Song (NYFOS), which he co-founded in 1988 with Michael Barrett. Since the Festival's inception, he has programmed, performed, translated and annotated more than 140 vocal recitals with repertoire spanning the entire range of American song, art song from Schubert to Szymanowski, and popular song from early vaudeville to Lennon-McCartney. NYFOS has also made in-depth explorations of music from Spain, Latin America, Scandinavia and Russia. New York Magazine gave NYFOS its award for Best Classical Programming, while Opera News proclaimed Blier "the coolest dude in town."
Mr. Blier enjoys an eminent career as an accompanist and vocal coach. His recital partners have included Renée Fleming, Cecilia Bartoli, Samuel Ramey, Lorraine Hunt Lieberson, Susan Graham, Jessye Norman, and José van Dam, in venues ranging from Carnegie Hall to La Scala. He is also on the faculty of The Juilliard School and has been active in encouraging young recitalists at summer programs, including the Wolf Trap Opera Company, Santa Fe Opera, and the San Francisco Opera Center. Many of his former students, including Stephanie Blythe, Joseph Kaiser, Sasha Cooke, Paul Appleby, Dina Kuznetsova, Corinne Winters, and Kate Lindsey, have gone on to be valued recital colleagues and sought-after stars on the opera and concert stage.
In keeping the traditions of American music alive, he has brought back to the stage many of the rarely heard songs of George Gershwin, Harold Arlen, Kurt Weill and Cole Porter. He has also played ragtime, blues and stride piano evenings with John Musto. A champion of American art song, he has premiered works of John Corigliano, Paul Moravec, Ned Rorem, William Bolcom, Mark Adamo, John Musto, Adam Guettel, Richard Danielpour, Tobias Picker, Robert Beaser, Lowell Liebermann, Harold Meltzer, and Lee Hoiby, many of which were commissioned by NYFOS.
Mr. Blier's extensive discography includes the premiere recording of Leonard Bernstein's Arias and Barcarolles (Koch International), which won a Grammy Award; Spanish Love Songs (Bridge Records), recorded live at the Caramoor International Music Festival with Lorraine Hunt Lieberson, Joseph Kaiser, and Michael Barrett; the world premiere recording of Bastianello (John Musto) and Lucrezia (William Bolcom), a double bill of one-act comic operas set to librettos by Mark Campbell; and Quiet Please, an album of jazz standards with vocalist Darius de Haas. His latest release is Canción amorosa, a CD of Spanish songs with soprano Corinne Winters on the Roven Records label.
His writings on opera have been featured in Opera News and the Yale Review. A native New Yorker, he received a Bachelor's Degree with Honors in English Literature at Yale University, where he studied piano with Alexander Farkas. He completed his musical studies in New York with Martin Isepp and Paul Jacobs.
NYFOS Associate Artistic Director MICHAEL BARRETT started NYFOS in 1988 with his friend and colleague Steven Blier. In 1992, he co-founded the Moab Music Festival with his wife, violist Leslie Tomkins. From 1994 to 1997, he was the Director of the Tisch Center for the Arts at the 92nd Street Y in New York, and from 2003 to 2012, he was Chief Executive and General Director of the Caramoor Center for Music and the Arts in Katonah, NY.
He has distinguished himself as a conductor with major orchestras here and abroad in the symphonic, operatic, and dance repertoire. A protégé of Leonard Bernstein, he began his long association with the renowned conductor and composer as a student in 1982. He served as Maestro Bernstein's assistant conductor from 1985–1990. He currently serves as music advisor to the Leonard Bernstein Estate.
A champion of new music, Mr. Barrett has conducted and played premieres by Bernstein, Blitzstein, Bolcom, Danielpour, Kernis, Sellars, Harrison, Takemitsu, Del Tredici, John Corigliano, Lowell Liebermann, and John Musto. He has collaborated with the directors Jerome Robbins, John Houseman, Sir Peter Hall, David Alden, Christopher Alden, and Gregory Mosher.
Mr. Barrett has recorded for Koch, TER, CRI, and Deutsche Grammophon. He has released two compact discs with the Brooklyn Philharmonic; one as soloist playing Blitzstein's Piano Concerto with Lukas Foss conducting, the other as conductor of works of Wilder and Corigliano with oboist Humbert Lucarelli. The DG recording, The Joys of Bernstein, features Mr. Barrett playing solo piano with Maestro Bernstein conducting. Other discs include Spanish Love Songs, recorded live at Caramoor with Lorraine Hunt Lieberson, Steven Blier, and Joseph Kaiser, Live from the Moab Music Festival, the Grammy-nominated Evidence of Things Not Seen (New World Records), Aaron Kernis: 100 Greatest Dance Hits (New Albion), On the Town (Deutsche Grammophon), Kaballah (Koch Classics) by Stewart Wallace and Michael Korie, Schumann Lieder with Lorraine Hunt and Kurt Ollmann (Koch), and Arias and Barcarolles (Koch) by Leonard Bernstein (Grammy Award).
Dedicated to music education, Mr. Barrett oversees the innovative education programs of the Moab Music Festival. He is also active in the creation of new educational programs for symphony orchestras in collaboration with Jamie Bernstein. Their programs have been performed throughout the U.S., Asia, Cuba and Europe.
As a performer, he has worked with many leading arts organizations throughout the world. Recent engagements have included the Portland (Oregon) Opera, The Utah Symphony, and the Indiana University School of Music, where he returns annually. Born in Guam and raised in California, Mr. Barrett attended the University of California at Berkeley and is a graduate of the San Francisco Conservatory of Music, where he studied piano with Paul Hersh. He earned his master's degrees in conducting and piano performance.