MISSION STATEMENT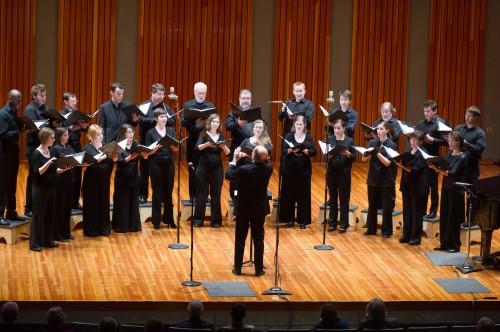 The mission of the Tucson Desert Song Festival is to provide a world-class experience for music enthusiasts and novices alike—of enjoyment, education and interaction with acclaimed classical voices singing with some of Tucson's leading performing arts groups. Ultimately the mission is to elevate Tucson to a world-class destination for music lovers.
Where might you savor performances by some of the world's leading classical singers collaborating with accomplished regional arts groups, while enjoying moderate winter temperatures, breathtaking sunsets, and endless outdoor activities?
It's the Tucson Desert Song Festival, a unique three-weekend blend of glorious singing in orchestral, chamber, choral, and solo formats along with related lectures and master classes in the warmth and charm of Arizona's renowned Sonoran Desert resort region. Internationally celebrated soloists join the Tucson Symphony Orchestra, Tucson Chamber Artists, UApresents, Arizona Opera and other organizations, in conjunction with master classes and lectures in intimate settings at the University of Arizona School of Music.
Between the festival events, enjoy the many wonders of the Sonoran Desert and Southern Arizona—the perfect winter destination known for its mild temperatures, numerous golf courses, art galleries, sumptuous restaurants, and hiking in any of four mountain ranges. Nearby are historic and art-filled towns such as Tubac, Bisbee, and Patagonia, not to mention Kartchner Caverns and prime birding sites.
HOW WE BEGAN
Tucson has a long tradition of classical music leadership in the Southwest. The University of Arizona has offered instruction in music since the late 1800s, and the Tucson Symphony Orchestra is the oldest continuing professional performing arts organization in Arizona.
With these artistic partners as a foundation, the Tucson Desert Song Festival was formed in 2010 as a Section 501(c)(3) non-profit corporation by a group of music-loving volunteers. The driving force behind the festival is Jack Forsythe, co-founder of the successful St. Paul, Minnesota Summer Song Festival, which ran from 2002 to 2006.
Our purpose is to coordinate, subsidize and publicize a unique classical voice festival highlighting the rich musical life of Tucson along with some of the country's leading vocal performance artists through a series of concerts, lectures and master classes throughout the three-weekend festival.
The participating organizations in the festival include the Tucson Symphony Orchestra, the Tucson Chamber Artists, UApresents, Arizona Opera, the Tucson Guitar Society, Arizona Friends of Chamber Music, and the University of Arizona School of Music.
The annual festival presented its inaugural performances February 8–17, 2013.
BOARD OF DIRECTORS
John (Jack) Forsythe, President
Julia Pernet, Vice President; Chair, Artistic Committee
Cynthia Hansen, Vice President of Marketing and Communications
Celia A. Balfour, Secretary
William Coulter, Treasurer
Ludwig Deppisch, M.D., Director, Adult Education
Carolyn F. Ahlstrom
Marlys Beider
Jean Cooper
Patricia Coyne-Johnson
John (Jack) Forsythe III
Theodore N. Hariton, M.D.
Elizabeth F. Keaton
Sheldon King
Nancy March
Patricia Martinez, M.D.
James Reel
Jill Rosenzweig
Jeannette Segel
Linda Staubitz
Dorothy Vanek
Diana Varecka
Kevin Murphy, Artistic Consultant
George Hanson, Festival Director
ARTISTIC LEADERSHIP
The objective of the Tucson Desert Song Festival board is to work with the participating arts groups to bring in world-renowned conductors and rising stars of classical voice to perform during the three-weekend festival. The artistic committee, chaired by Jack Forsythe, includes a broad spectrum of expertise, including UA music professors, the artistic directors and executive directors of the participating performing arts groups, the classical music director of Arizona Public Media, and festival board members. This diverse group keeps tabs on the country's finest talent that will best match the pieces performed during the festival, and functions under the guidance of artistic consultant Kevin Murphy, a nationally noted accompanist to vocalists and program director for singers at the Ravinia Festival's Steans Music Institute. As of July 1, 2015, George Hanson, former music director and conductor of the Tucson Symphony Orchestra, is TDSF's first Festival Director, taking a major role in the festival's marketing, communication, development, governance, education and artistic activities.
ARTISTIC STEERING COMMITTEE
Mark A. Blakeman, President and CEO, Tucson Symphony Orchestra
Mary Beth Cabana, Artistic Director, Ballet Tucson
James Reel, President, Arizona Friends of Chamber Music; board member, TDSF
Jack Forsythe, President, TDSF
Cynthia Hansen, Vice President, Marketing, TDSF
Theodore N. Hariton, M.D., TDSF
Eric Holtan, Music Director, Tucson Chamber Artists
James (Jed) Kee, Executive Director, Ballet Tucson
Julia Pernet, Chairman, Tucson Guitar Society; board member, TDSF
Artistic Director, UApresents
Edward Reid, Director, University of Arizona Fred Fox School of Music